Ken Tywoniw might not be able to roll. But he sure can rock.
Fake rocks. The 51-year-old Pocahontas County man runs Hi-Tech-tonics, the country's leading maker of artificial habitats, environmental sculpture and geologic exhibits.
Need a natural-looking polar-bear cave for your zoo? Tywoniw's your guy. A convincing fake rock statue for your theme park? Ask Ken. Replica dinosaur fossils for a museum exhibit? You guessed it.
"It's easier for me to do this work," Tywoniw jokes. "I can't make a straight line anyway."
New Jersey-born Tywoniw was studying photography, painting, printmaking and scientific illustration at the University of Arizona when he accidentally stumbled upon his career. A friend back in New Jersey told him the Bronx Zoo was looking for people to help refurbish the animal habitats.
Tywoniw agreed to help and was hooked.
"I was dragged into this by a friend and haven't been able to get out," he said.
Tywoniw's résumé reads like a Who's Who of habitats. He has done work for zoos in Nashville; Houston; West Palm Beach, Fla.; Cincinnati; Seattle; Portland, Ore.; and Baltimore. He did work for Universal Studios in Orlando, Fla. He's done work for aquariums and private homes, amusement parks and private communities. Recently, he helped build a year-round stone grotto and pool for The Retreat, an exclusive gated community near Lewisburg.
"That guy is amazing," said Charles Ausburn, developer of The Retreat. "He's an absolute artist. He's a really great guy."
Tywoniw can simulate any geologic feature found in nature. He can re-create trees, vines and fossils. He works almost exclusively with steel and concrete.
In the old days, habitat artists worked mainly with plaster, he said. The process was slow, tedious and messy. Tywoniw has pioneered dozens of new techniques, achieving results quickly and convincingly with pressurized concrete sprayed from a hose.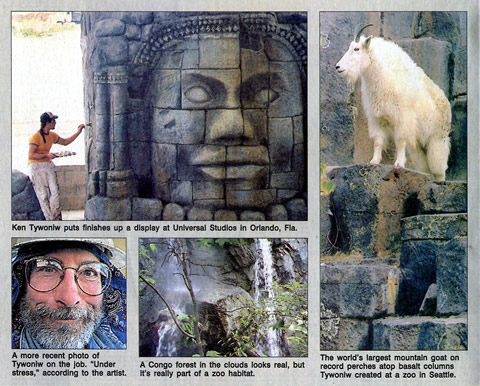 "If you can get a good nozzle man out there, half the job is done," he said.
The job combines artistic expression with the limitations of construction work. Tywoniw said working with natural habitats can be taxing for contractors used to concise blueprints, right angles and straight lines.
When it comes to making something look odd and messed up, that's my forte," he said. "We have to ad lib, do things spontaneously on the job."
In the process, Tywoniw and his crews have come up with all sorts of gadgets to make concrete look like real rock. They might hose down setting concrete with water. They poke and they prod and make their own tools.
"We've got lots of little techniques and gimmicks," he said. "It's everything from mainstream construction tools right through to using sticks and rocks to make the texture on these rocks."
Tywoniw has become a master of using paint to simulate lichen and other natural features. He is constantly studying rock formations and looking at the earth.

"I used to take rocks for granted," he said. "Now I pay a lot more attention to it." Studying and replicating geology for a living has done little to squelch Tywoniw's reverence for nature. In 1990, he started looking for an unspoiled mountain paradise to call home.
"I grew up running around in the woods of New Jersey, and I watched it all get cut down and filled in with concrete," he said.
Tywoniw wanted to find a place with trees and rivers and rainfall to raise a family. He settled in Pocahontas County, where he lives with his wife, Robin, and sons Rurik and Kiy.
"This is one of the best places in the country," he said. "I love it here in West Virginia."
His work takes him all over the world, but Tywoniw considers Pocahontas County home. His surroundings also provide inspiration for his work.
"It's hard work, but it's a lot of fun," he said. "It's putting science and art and construction — things that, on the face of it, have nothing to do with each other — together."